Dogs North and West Vancouver
Professional Dog Walking Services
Pet ownership isn't always a walk in the park. Happy Tails Urban Adventures is here to alleviate the stress (on both you and your four-legged friends) and give your pets the tools & experience they need to really, truly thrive! Check out all our offered services below.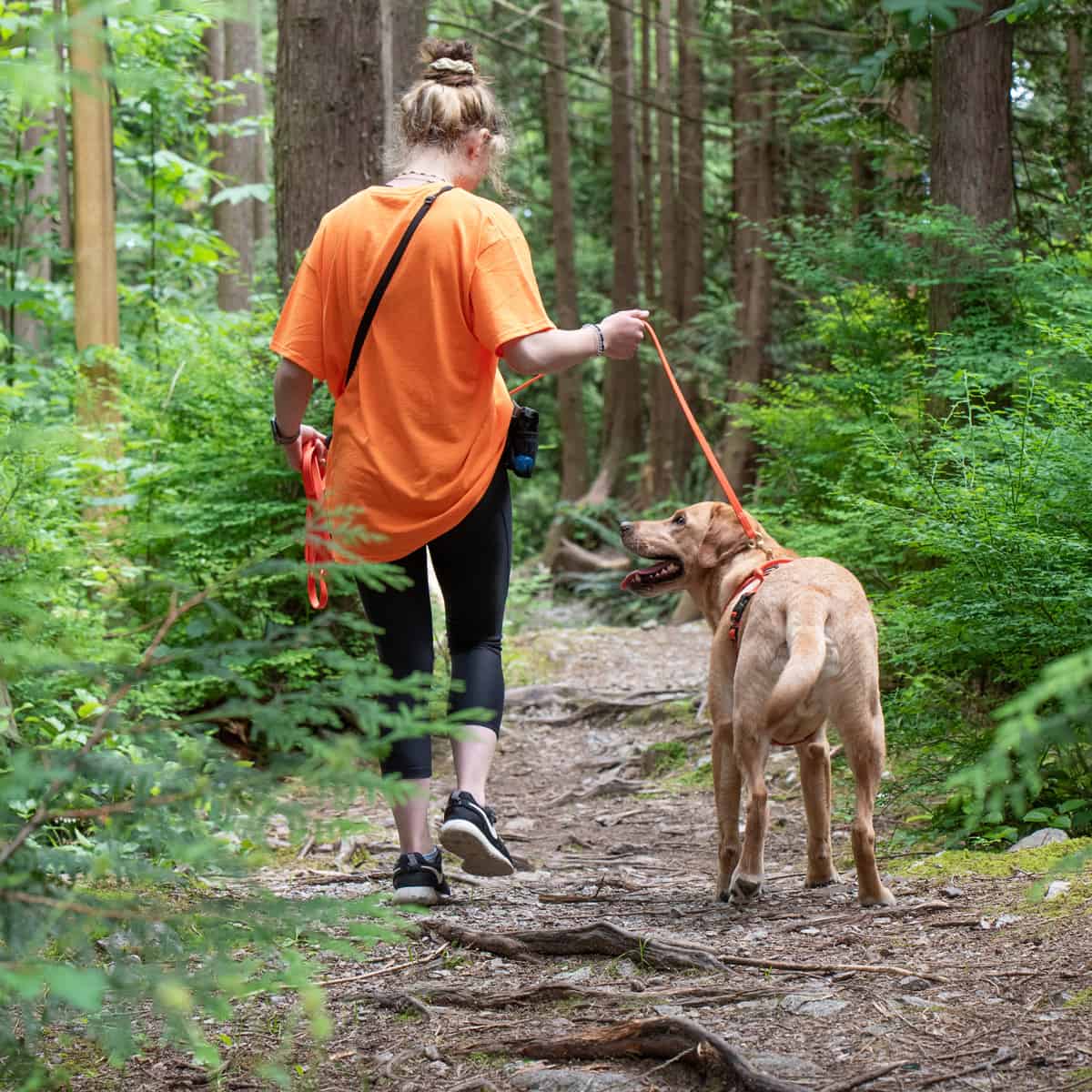 Select a 30 or 60-minute walk depending on your individual dog's exercise needs. Each walk will be custom-tailored to your dog's needs but will always include:
Walk time (leashed or off-leash depending on your individual dog)
Post-walk report so that you know how your dog's trip went
Rates
30-minute walk: $42.00 + GST
60-minute walk: $56.00 + GST
*$15.00 per additional dog from the same household
How To Choose The Right Walk Duration
Not sure whether to choose a 30 or 60-minute walk for your dog? Here's our advice!
30-minute walks are ideal for lower energy dogs needing to get out and stretch their legs
60-minute walks are ideal for dogs needing a little more training or exposure to environmental triggers. Additionally, a 60-minute walk is best if you'd prefer your dog have an off-leash adventure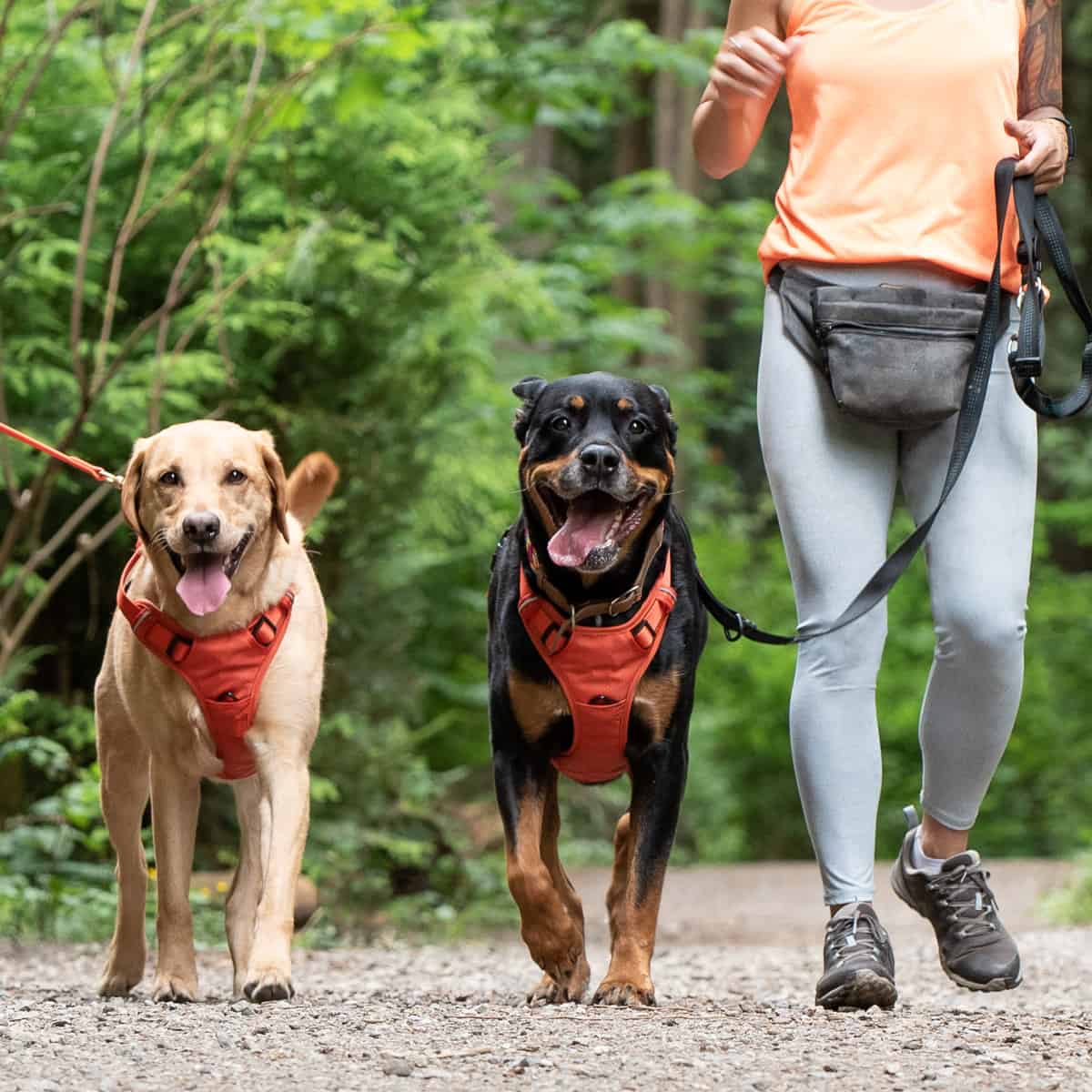 It's time for an adventure! Your dog will get to explore local trails alongside well-matched canine friends—one or two other dogs based on size, play style, and temperament.
Rates
90 minute hike: $48.00 + GST per dog
Our top priority is to make sure your pet & home are happy and safe. We follow a detailed onboarding process to make sure no detail is left behind. The more that we know, the better!
Step One
Fill Out Client Questionnaire
Our simple questionnaire will help to determine whether or not our services are a good fit for your needs.
Step Two
Schedule a Phone Consultation
We'll learn more about what you're looking for and schedule a Meet & Greet.
Step Three
Conduct a Meet & Greet
At the Meet & Greet, we'll have the opportunity to meet your pets and visit your home.
Frequently Asked Questions
Where will you walk my dog?
For private on-leash walks, we explore your own neighbourhood so your dog has the opportunity to sniff and relieve themselves. Depending on your dog's individual needs, we can vary our walk routes each visit or stick to a specific, regular route. If we need to drive your dog to a different location, the driving time will be taken into account of the total walk time.
For Buddy Hikes, we transport a maximum of 3 dogs to one of the City of West Vancouver permitted commercial dog walking trails:
Ballantree Park
Cypress Falls Park
Douglas Woodward Park
Klahanie Park (trails only)
McKechnie Park
Millstream Park
Brothers Creek Park
Will my dog be off-leash?
Safety is always our top priority, so on-leash walks are our default. When we've had the opportunity to get to know your dog and establish a good relationship, we can begin to introduce off-leash hikes. This all depends on your individual dog and their recall response.
Can you take my dog to the dog park?
We love dog parks, but dog park experiences do vary. You never know who will be there! In order to ensure your dog has a positive experience when in our care, we do not visit dog parks together. Instead, we work with your dog's individual needs and focus on quality leashed walks to provide outdoor exercise and mental stimulation.
Depending on your dog, we may choose to visit one of many off-leash trails so your dog has the choice and freedom to interact with others on their own terms.
My dog doesn't like other dogs/young children/loud noises. Can you still walk my dog?
Yes, at Happy Tails Urban Adventures, we work with a variety of dogs with a variety of needs. Our top priority is to ensure that your dog is never put in an uncomfortable situation. We will take steps, however slowly, to help your dog feel safe before moving forward. We are experienced with reactive dogs and will follow positive reinforcement protocol to help your dog happy & stress-free!
Can you train my dog as well?
We are experienced dog walkers and are well-versed in positive reinforcement training methods. We are happy to follow any training plans that you can provide us to ensure consistency, however, we are not trainers. If your dog requires training, we are happy to refer you to a qualified, certified trainer or behaviorist.
When does the clock start for my dog's walk?
We thrive to maximize and make the best out of your dog's scheduled walk. And trust & transparency are important to any good relationship. We will never "shave" or "cut short" your requested time. Your dog's walk timer starts once we have entered your residence. Therefore, it's helpful to have your dog's gear near the entrance so we're not searching for it. That way, we can get to our adventure ASAP!
Can you walk my dog at the exact same time each day?
We understand that routine is important – for both you & your pet! But unfortunately, we cannot fully control everyday things like traffic and weather. While we strive for the same time each visit, we ask for some flexibility in our scheduling and will always provide updates so that you know what's going on.
For example: If you are scheduled for 3 pm, you can expect your walker to arrive sometime between 2 pm and 4 pm. This window helps us manage constantly varying schedules and unexpected situations.
What equipment do you use?
Happy Tails Urban Adventures promotes force and pain-free methods with positive reinforcement. Therefore, we will not offer dog services using any choke collars, electric/shock collars or prong collars. For your dog's safety and comfort, please have a properly fitted harness and leash available for your dog's walk. We will provide high-value treats and poop bags.
Can you walk my neighbour/friend/relative's dog at the same time?
Our private dog walks are customized to meet the needs of each individual dog. Walking multiple dogs will be considered on a case-by-case basis.
Contact us and we will get back to you during office hours Monday to Friday: 9:00 a.m.–5:00 p.m..
Daycare Hours
Monday to Friday: 7:00 a.m.–7:00 p.m.
Payments
All services are booked upon prepayment. For ongoing, recurring clients, monthly invoices will be issued on the 25th of each month and due on the 1st of the following month. Payment must be received before the start of service. A 10% late fee is charged on unpaid invoices that are 7 days past due. Invoices outstanding after 14 days past the due date may be subject to cancellation of services.
Payment can be made by electronic transfer or credit card via Time To Pet.
Holiday Fees
The following holidays have a 20% surcharge added on.
Easter Weekend
Victoria Day Weekend
Canada Day Weekend
BC Day Weekend
Labour Day Weekend
Thanksgiving Day Weekend
Remembrance Day Weekend
Christmas and New Year's
Timing of Visits and Walks
Please request a time but note that we have a 2-hour window to complete visits and walks. If for some reason we exceed this time limit, we will contact you to let you know we're running late.
Scheduling
We recommend establishing a regular schedule for your pet. After all, our pets thrive on routine! With this in mind, please book your walks and visits in advance to ensure you get the time window you need. Regular schedules also help us carefully plan so that we can ensure each of our clients gets the most out of every visit.
For the above reasons, we require a minimum of 48 hours advance notice to guarantee accommodation. Please be mindful of this in the event that you need to make changes to your schedule.
We will always do our best to accommodate last minute requests, however, due to other clients' commitments, it is not always possible.
Access
To ensure we maximize every minute of your pet's visit or walk, it is imperative that Happy Tails has the necessary access to your home such as suite key, security codes or FOBs. If we arrive and are not able to take your pet out, we will contact you and wait for 10 minutes before leaving without refund. Any wait time after 5 minutes will be deducted from the visit or walk.
If you plan to be home when we arrive, please be appropriately dressed.
Cancelations
Clients who book dog walking services on a recurring schedule will receive 1 week of free cancelations per calendar year. Once this is used up, additional cancelations are non-refundable. For example, if you book our dog walking service twice a week, 2 free cancelations are included for the year.
If you book us occasionally/only when needed, cancelations will not be refunded. Please plan accordingly.
For pet-sitting and overnights, you'll receive a 100% refund if canceled within 4 weeks notice. You'll receive a 50% refund if canceled within 2 weeks. Thereafter, your booking will be non-refundable.
Extreme Weather
In the best interest of both your dog and the walker, 1-hour walks will not occur if there are weather advisories such as poor air quality due to forest fires, strong storms, snow/hail or extreme heat. In either case, we will go outside long enough for your dog to relieve themselves. Credit will be applied for any unused time, added to a future visit or supplemented with indoor exercise/playtime where possible.
Pet Well-being, Health and Safety
We reserve the right to refuse service to any pet for any reason including, without limitation, if it appears that the pet is sick, injured, in pain, or that its behaviour could jeopardize the health and safety of other pets or our team.
Happy Tails Urban Adventures and its team members proudly advocate for all pets in our care and will only follow a positive and force free regimen. We do not use any equipment that could cause or inflict pain on any pet such as; prong, pinch, choke and electronic collars. This also includes the Pet Guardian's use of such equipment or negative/punishment training techniques with his/her pet outside our service. Happy Tails reserves the right to terminate all services without refund if it becomes apparent that pain or negative reinforcement is used.
All pets need to wear proper Municipal identification. Happy Tails is not liable for any fines incurred if pet is not wearing such identification.
Buddy Walks
If requested and where possible, we can look into introducing two dogs that may be compatible to walk together. This would require some planning and a few private walks initially so we can get to know your dog and its personality. If there is a good match in our roster, we will plan for a slow and controlled introduction to make sure everyone is happy and safe with one another.
Job Sharing
Happy Tails Urban Adventures assumes no responsibilities or liabilities if individuals other than Happy Tails will also be providing pet or house-sitting services.
Fill out our client questionnaire to get started.
Ready to start your dog walks with Happy Tails Urban Adventures?